That was the topic for this week's #CMWorld Twitter chat. Some of us aren't comfortable talking about ourselves. Others are unsure of how to approach it. It's a conversation Emilie Moreland, Head of Content at Digital Room Inc., has regularly. She writes to guide clients online about effectively marketing themselves offline.
As always, our CMWorld community had a lot to say. The beauty of our community is the diverse perspectives its members bring to the table. Whether you're just starting out or hoping to move to the next level, you'll find the conversations here helpful.
This is a brief look at the Twitter chat. For more tweets from the discussion, check out our Twitter Moment. Or visit our LinkedIn Group for more thoughts.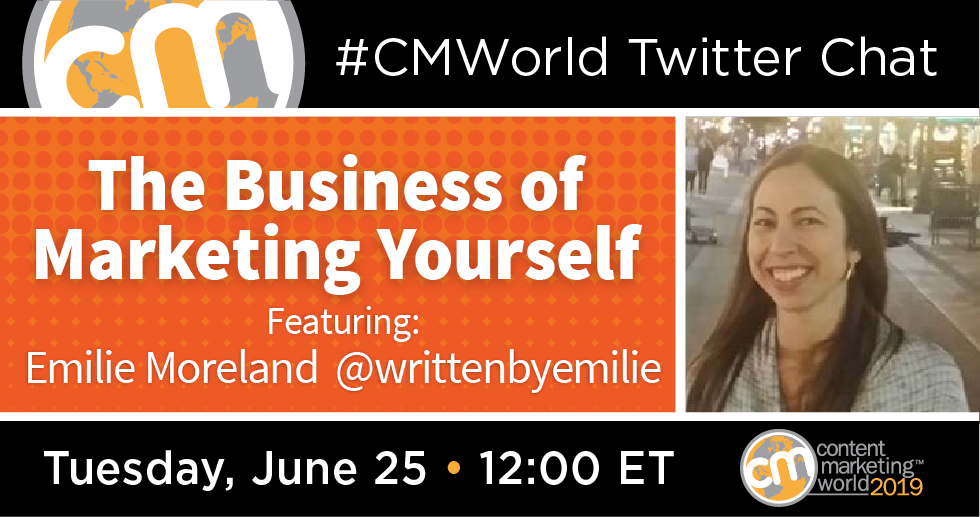 Do you have an elevator pitch? What should be included in one? When do you use it?
A2. You can call it an elevator pitch or not, but it' very important to be able to quickly state:

Who you are.
Who you help.
How you help.
#CMWorld

— Tod Cordill (@todcordill) June 25, 2019
A2 Some of the best I've heard include a one-sentence case study. "We did X for a client in Y weeks/when no one else could/etc." Anyone can communicate an ideal, but bait your listener with real results. #cmworld pic.twitter.com/04ZLPhP1UU

— Alexis Katherine (@estherproject) June 25, 2019
A2: I do think elevator pitches can sound fake. I always like it when it sounds more "real." As in having a conversation to get to know more about someone and what they do. #Cmworld pic.twitter.com/b5jW6qmKsh

— Michelle Garrett (@PRisUs) June 25, 2019
A2: I NEED an elevator pitch! Everytime someone asks me what I do, I draw a blank or stumble over my words. It's been on my to-do list for ever, anyone got any good resources on how to write one? #CMWorld https://t.co/KEhBvME94U

— Domenica D'Ottavio (@atdomenica) June 25, 2019
Do you still use business cards at events? Or do you go digital? What are the advantages/disadvantages of either?
A3: 2/2 Having a physical card to reference, serves as a reminder to your connection of who you are, especially when that card is particularly memorable.

I'll also share this guide to business cards I created with tips for exactly that: https://t.co/izfSsPpN0U#CMWorld

— Emilie Moreland (@writtenbyemilie) June 25, 2019
A3: Yes I def use business cards! #LinkedIn is good, but after #CMWorld the physical cards I had were so helpful when following up post-event.

I always take a picture of business cards, just in case I lose them! The picture date helps reference contacts from the event, too https://t.co/a3sUvnjj1y

— Kristen McCabe (@AusmericanGirl) June 25, 2019
A3 Can't remember the last time I gave someone a business card. If they really want to stay in touch, they'll connect with me here on Twitter. And I say that. #cmworld

— Martin Lieberman (@martinlieberman) June 25, 2019
A3 Definitely digital. The @LinkedIn Nearby function paired with my @Google calendar eliminates the need to carry a pocket full of cards. #CMworld pic.twitter.com/9aBdCajTWE

— Dan Willis #DOYOLive (@MLLNNLmotivator) June 25, 2019
A3 I still carry business cards, but I only give them if asked for one. I prefer to connect immediately on digital rather than hand a card and hope for a phone call! #CMWorld https://t.co/jZRJsXGfXf

— Kyle Hetrick #WMDProject #Podcast (@KHetrific) June 25, 2019
What are some non-traditional ways to highlight your content marketing skills? How are you marketing yourself?
A7: Tinder bios. You think I'm kidding, but I'm not. Also, I'm available for hire. #CMWorld pic.twitter.com/BmyV9rR9n7

— Rachel Wendte (@rkwendte) June 25, 2019
A7. I love what @KDHungerford does with her Drop-In Digital meetups. Provides in-person value to community (and prospects) every other Saturday + minimizes the random coffee dates that otherwise take time away from work. #CMWorld https://t.co/sPDsz5n7Zg

— Carmen Hill (@carmenhill) June 25, 2019
A7. Participate in Twitter chats, engage with people on social, and write a monthly blog post for my website too. Oh and I've been guest posting too! #CMWorld

— Masooma // Content Writer (@inkandcopy) June 25, 2019
A7:

I'm not sure if it counts as non-traditional, but I don't see many content marketers doing talks and presentations at events.

I think that's a perfect opportunity to prove to people that 1) you know what you're talking about and 2) they probably need your help.#CMWorld

— James Tennant (@JamesConverge) June 25, 2019
What are your tips for marketing yourself? What's your elevator pitch? Share it with us in the comments below.
Looking for an opportunity to market yourself? Want to network with like-minded pros? Attend Content Marketing World 2019. Register with SM100 to get $100 off.
The post The Business of Marketing Yourself: A #CMWorld Twitter Chat with Emilie Moreland appeared first on Content Marketing World.